Languages
The historical distribution of the three major established language families in the Kalahari Basin area are Khoe-Kwadi, Ju-ǂHoan and Tuu as shown on the map below, with various individual languages in red.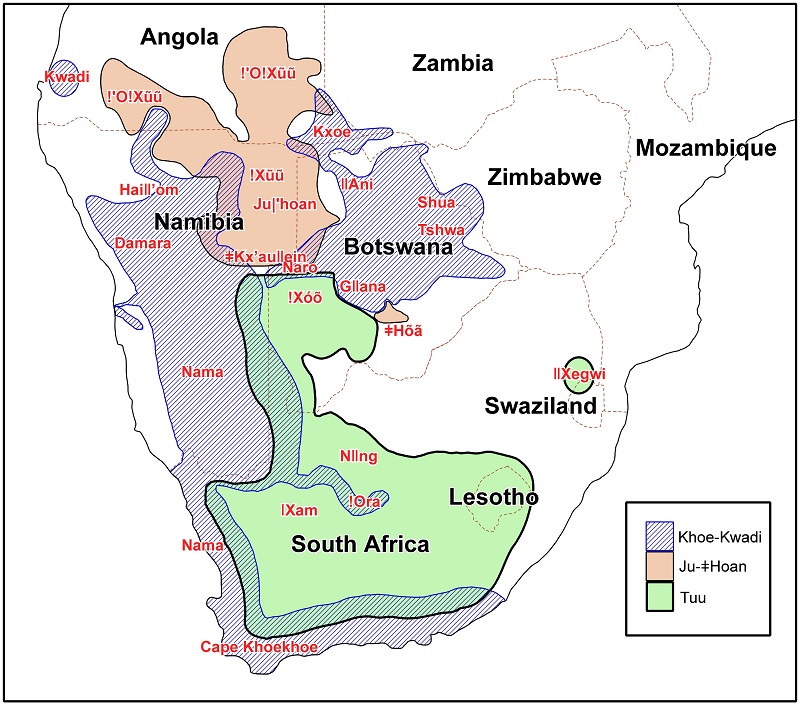 | | |
| --- | --- |
| | The Kalahari Basin Area Project |
Further Resources
General Information
http://en.wikipedia.org/wiki/Khoisan
http://en.wikipedia.org/wiki/Khoisan_languages
http://goto.glocalnet.net/maho/uns/khsrefs.html
http://www.africanlanguages.org/khoesan.html
http://www.thinkingthreads.com/KhoeSan_Research_Network.html
&nbsp&nbsp&nbsp
http://lingweb.eva.mpg.de/tsammalex/index.php/Main_Page
http://lloydbleekcollection.cs.uct.ac.za/
Khoekhoegowab
Learn Khoekhoegowab online! Khoekhoegowab, also called Khoekhoe and Nama (see map above), is a member of the Khoe-Kwadi language family.
Lesson 1
Lesson 2
Lesson 3
Lesson 4
Common words
Colours
Animals
Numbers
Family
House
Bible story
Blackboard project
Institutions
http://www.ub.bw/
http://www.unam.na/
http://www.nied.edu.na/
NGOs
http://www.wimsanet.org/
http://www.kalaharipeoples.net/