Workshop Organizers
Student Assistant
---
The Conference
The 38th annual conference of the German Linguistic Society (DGfS) will take place from the 23th -26th Feburary 2016 at the Universität Konstanz. The main topic of the conference is "Sprachkonzil: Theorie und Experiment" (language council: theory and experiment) in relation to the 600 anniversary of the Council of Constance.
---
The Workshop
We will organize the workshop "The syntax of argument structure: empirical advancements and theoretical relevance". In this workshop we aim to investigate current approaches to research in the field of syntax and argument structure.
Find out more about the workshop.
---
Where and When
38. Jahrestagung der Deutschen Gesellschaft für Sprachwissenschaft
23th – 26th February 2016
Universität Konstanz 78457 Konstanz, Germany
The conference website is available here: DGfS 2016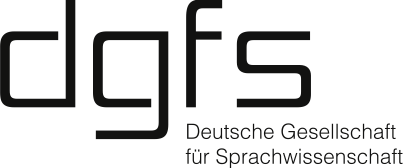 ---
For details about other sessions, registration, travel, etc., visit the DGfS 2016 conference website.
---