Isabella is a lecturer in Religious Studies at the University of Kiel. She was previously lecturing at the universities of Würzburg, Erfurt and Jena. She studied Greek and Latin Philology as well as Philosophy in Würzburg, Thessaloniki and Padova. She received her MA in Ancient Greek from the University of Würzburg and her PhD in Religious Studies (Orthodox Christianity) from the University of Erfurt. Her current research project is about the relationships between Religion, Dance and Race in Nazi Germany.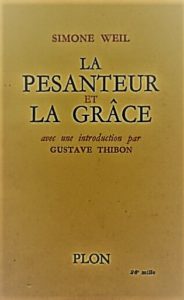 In her podcast, Isabella approaches the reading of La pesanteur et la grâce (1947) from a cultural studies perspective, namely, the extent to which new texts are created in the process of cutting up and assembling. In addition to the inevitable question of the author's function, she also considers artistic forms of expression, such as the collage by Thomas Hirschhorn, "A Simone Weil Map", which he created during the lockdown in Paris in spring 2020. 
Thomas Hirschhorn
«Simone Weil-Map», 2020
Studio view, 250 x 450 cm
Courtesy of the artist and Gladstone Gallery, New York
Photo : Marc Domage. For more informaton, visit: Thomas Hirschhorn
Overview Am 31. Januar 2021 diskutierten Martina Bengert und Wolfram Eilenberger in dem von Simone Miller moderierten Podcast "Philosophin Simone Weil. Eine Denkerin der radikalen Hoffnung" der Reihe Sein & Streit des Deutschlandfunk Kultur über die Aktualität Weils für unsere heutige Zeit.   On the 31 January 2021, Simone Miller welcomed Martina Bengert und Wolfram
Mehr ...