AS PART OF THE »PAPIER collé SIMONE WEIL« WE INVITED WRITERS AND ARTISTS TO SHARE THEIR IDEAS ON SIMONE WEIL. SOME BITS AND PIECES, SOME MATERIAL, THOUGHTS… TRACES AND LINES THAT REVOLVE AROUND THEIR READING OR RESEARCH. LIKE A SUNDAY STROLL THROUGH AN IMMATERIAL-IMAGINATIVE LIBRARY. LIKE A BORGES READING MACHINE THAT UNENDINGLY COMES TO LIFE: FLOATING, RATTLING, NEVER ARRIVING AT A FINAL POINT WHERE ALL IS FIXATED, SAID AND READ.
+ click on the items below to read the texts +
Mark von Schlegell
is an American science fiction writer and cultural critic. He lives in Germany and the US. His novels include
Venusia
(2005),
which was listed on the 2006 James Tiptree Jr Awards Honors List,
Mercury Station
(2009) and
Sundogz
(2015).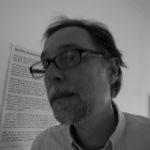 (Bildquelle: https://www.staedelschule.de/de/information/teachers/mark-von-schlegell)
Overview Am 31. Januar 2021 diskutierten Martina Bengert und Wolfram Eilenberger in dem von Simone Miller moderierten Podcast "Philosophin Simone Weil. Eine Denkerin der radikalen Hoffnung" der Reihe Sein & Streit des Deutschlandfunk Kultur über die Aktualität Weils für unsere heutige Zeit.   On the 31 January 2021, Simone Miller welcomed Martina Bengert und Wolfram
Mehr ...