Commitment to Inclusion
Our RTG recognizes that in the past some prospective scientists have been held back by bias or discrimination.
We are committed to inclusion and equal opportunities for all persons without regard to:
age or disability,
culture or nationality,
race or religion,
family- or socio-economic status,
gender or sexual identity or orientation,
or any other personal characteristic or condition,
so that science can be practiced in a healthy work environment for the benefit of all members of the community.
We attempt to cultivate a diversity-sensitive and equitable scientific community in which all of its members can flourish scientifically without being held back by bias or discrimination.
Internships for women as Equal Opportunity and Diversity measures
We offer a limited number of internship positions for master and advanced undergraduate students who identify as women. These internships would provide opportunities to work with mentors from the RTG.
Internships can be as long as 3 months and should not be shorter than 1 months. The internships are financially supported with a stipend of 450 Euro per months and up to 200 Euro to cover travel expenses to come to Berlin. 
Internships can be done either in summer terms (February to August) and winter terms (September to January). Application deadlines are December 1st (July 1st) for summer (winter) term internships. 
Your application for an internship should include a letter of motivation, a CV, copies of transcripts and certificates (in a single pdf file!). In addition, please indicate one or more research areas you are interested in to do your internship.
Please send your application via email to rtg2575@
(followed by physik.hu-berlin.de).
Non-Standard Models (outreach)
The RTG recognizes the importance of a wide range of views for fresh ideas and progress.
Since its inception its members have strived to advance non-standard ideas and identities, perspectives and persons (m/f/d), and share these with the wider public. More information can be found on the outreach page.
Multiplicity in and of Physics  (seminar series)
We are organizing a biweekly seminar at Humboldt University of Berlin during the 2023/24 Winter Semester (October to February) on Thursdays from 4pm to 5pm. The goal of this seminar is to provide career orientation for physics students from a variety of perspectives. Speakers will discuss one of their scientific topics and their career paths. For more information see here.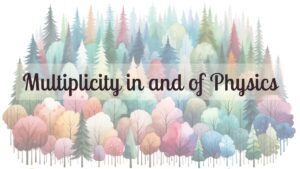 Further Resources at HU
Equal Opportunities at HU Berlin
WiNS (Women in Natural Sciences) Adlershof
METIS Gender Equality & Family Friendliness in Research Alliances